The rain hasn't stopped for like 2 weeks. If it isn't raining, it is cloudy so nothing is drying out. After Jackson almost wrecked his knee last spring running on wet grass and Poe's habit for dangerous gymnastics and NASCAR impersonations I'm hesitant to let the dog run too much on the swamp we used to call a field.
So what does that leave me with? 2 very very very very very very bored collies. Poe at least has flyball and obedience class to take the edge off, but poor Jackson. I can't stop moving without a stinky slimy stuffed frog shoved in my face. All.the.time. I throw Mr.Frog, Poe steals Mr.Frog, Jackson cries, and I end up with a cold wet collie nose poking me in the face.
And I'm getting a bit bored myself. I don't like being trapped inside for weeks on end. Too much time alone and boredom make me do crazy things, like use my dogs as props: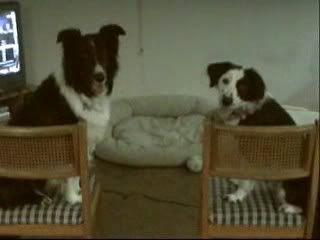 As you can imagine, this quickly turned into a game of musical chairs, which started a fight.
Siblings.
*sigh*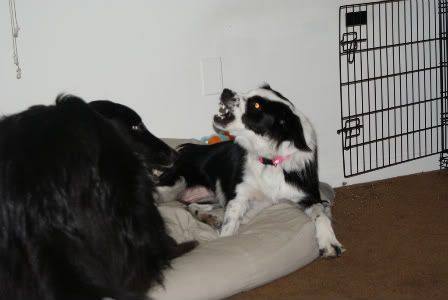 And the forecast for the rest of the week:
Rain, Rain, Rain, Thunderstorm, Rain.
Are you shitting me?!